THE ULTIMATE SACRAFICE IS LOSING A CHILD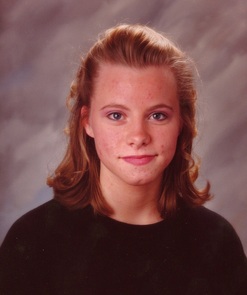 This web site is in honor and rememberance of my only daughter, Regina (Gina) Lee Krieger born March 3, 1980. She was murdered February 26, 1995 in the small town of Burley Idaho. Her body layed hidden in the depths of the Snake River and later surfaced April 1995 on a rocky bank, decomposed and unrecognizable. Her story is that of betrayal by her own peers and the evil act of a known drug dealer. My life is now consumed with the urgency to help others and prevent this tragedy from happening to another child.

The evil in this world is growing and getting stronger and still children are becoming prey to violence. My daughter is my hero because she wanted to tell me who gave her drugs. Her life was taken and her horrifying death was used as a warning of silence. It is due to fear that her killer roams free and justice may never prevail.
---
STORY SHARING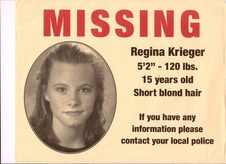 It is my belief that by sharing my stories, others will gain the knowledge necessary to live a life of abundance and possibly share their own story to help others. I am not famous, I am not a celebrity or a known political figure, I am you! A simple person who struggled with the past, overcame the horror in my life and thrive to live day by day in a world doomed by humanities collective stupidity for lack of compassion and love towards each other.
---
THE LOVE WILL NEVER DIE
Many Roads We Travel

Through heartache and heartbreak, tears and joyous wonder
we travel the roads of hope a forever journey to the unknown.
The roads we travel bring us wisdom, which consumes
our minds like a spiritual journey touching the heart of our
soul. A map of memories taking us farther into the sands of
time. Every journey has its obstacles, which we can bypass.
For those who stop to suddenly fearful of what lies ahead, lack
courage and choices are like the changing winds. A sandy barren oasis, which seems empty and lifeless holds the truth to our madness.
A land to be discovered only to find a single desert flower alive and vibrant with color. Waiting to be noticed not picked, for it
symbolizes our hopes, our dreams and our desires. The sands
are no longer lifeless for it is that flower that gives strength to the weak, happiness to the hopeless, knowledge to the ignorant and love to the cold hearted.


---
I traveled my roads of hope and my choices brought me the ultimate gift of love. Without GOD'S love I would have surely died and never been able to recover from anger and the grief of loss. My daughter lives in me and I in her and that is how we remain as one. Life is not meant to be continuous pain and turmoil. To live is to love and to forgive is divine, because without love, pain and anger will surely consume the spirit and only evil things will derive from it.